I Wasn't Always Bald
The episode at Tuscana Salon got me thinking about the days when I had hair.  Back in the day, I was a tinkerer with my hair.  Maybe I got that from my mother, who use to love to change colors and style.
Of course if you saw my early school or camp pictures, I usually had the wildest and thickest hair of whatever group I was in.  Unkempt, or minimal effort at best, is how I would describe my early hairstyle.
I'll spare you the full anthology, but my main looks over the years include:
Buzzed on the sides and back, with like a curly Mohawk on top.  That was fine, but when I was sixteen and came back from summer school in Vermont, with the sides of my hair dyed blonde, my Dad went BAL-LIS-TIC.  One of his solutions was to boil my head in water.  My mother had to remind him I was not a hard-boiled egg.  Suffice it to say I made a trip to a hair salon the next day to get my hair dyed as close to my natural color as possible.
I didn't have it for very long, but my favorite look was probably when I had my hair spiked when I was 17.  I made this friend on a teen tour one summer who lived in Chletenham, PA.  He had this hair style and he took me to his barber when I visited him in the winter.  The barber gave me the same look and I loved it.  Too bad every other barber I ever went to said my hair was too curly to spike, and I never made it back to Cheltenham.  They were calling me Schubie Idol cause the style resembled Billy Idol.
After that it was the college years and the Steven Seagal wanna be slick back hair/ dinky pony tail look for me.  That worked for a while.  Between that, the martial arts and weight lifting I was doing at the time, I became unintentionally intimidating to some.  Ask me to tell you a funny story about this one day.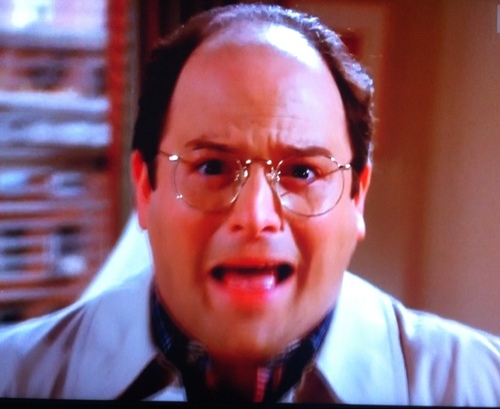 As my hairline started to recede, the fear of the George Costanza look, horse shoe bald, was sinking in.  These were not happy moments. Eventually, I wanted to get a peek into what seemed like my inevitable future while I still had a relatively full, if thinning, head of hair.   So I buzzed it super short, and was like, huh?  Not so bad.  So I started shaving it all off and liked it better than what I had.
And there you have the brief history of hairstyles of Jeff Schubert.
I have noticed in myself and others how the right occasional change in hairstyle, can have a positive impact on mood.  So if you're looking for a pick me up maybe think about giving your hairdo some love!
If you are into hair dying, I suggest researching/ using good product to avoid messing up the texture of your hair and also considering the ingredients, because just like food, or medication, your liver has to work to deal with what the body absorbs.
If you missed the Tuscana Salon episode you can watch it by clicking here.  I don't get a hair treatment, but I do get something done, and you won't want to miss that!
Please follow and like us: